Site Computer News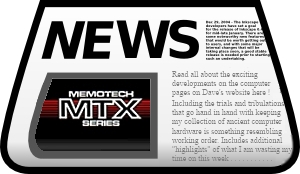 2012 2013 2014 2015 2016 2017 2018 2019 2020 2021
Latest News - September 2022
I have started to ship the first MFX boards, though not as quickly as I would have liked. Things are quite hectic at the moment and MTX activities are a little lower down my priority list than normal. If you have previously expressed an interest in getting one, I will get to you soon(ish).
August 2022
There was a minor problem with the initial batch of MFX PCBs. Modified PCBs have now been received and I have started assembling them for the first orders. Samples of the 3D printed end plates are on order, once they have arrived, the first completed MFX boards should ship by mid August.
Bill Brendling has released an updated version of his Z80 assembler written in Python to reflect changes to Martin's home brew Z80 assembler for RISCOS. (Martin uses his assembler to compile the firmware for our MTX add-ons. As well as its other functions, Bill's tool allows people without RISCOS machines to compile Martin's code.)
Posted a copy of the "HRX Graphics System - HRG Utility Software Manual ", kindly uploaded by Simon Goodwin who received it directly from Memotech after the PCW Computer Show in 1984.
The first MFX boards are now ready to ship - if you have previously expressed an interest, I will be in touch with you shortly.
July 2022
Bill Brendling has released a library of C functions for SDDC to support programmers wanting to code for the MTX in C. The library is available here. As well as the function library, Bill has created a development environment (using Code::Blocks) that allows you to automatically build a MTX .run file and invoke MEMU to execute it. It's really neat - try it out! (An updated version, dated 23/07/22 is now available.)
Testing of the MFX is continuing, PCBs have been fabricated, and apart from a couple of minor issues, appear to be working as designed. Assuming that we don't find any "show stoppers", I am likely to make it available for order in a couple of weeks or so, say around the end of the month. I am starting to put together some documentation that will describe how to use it that should hopefully answer any questions that you might have. I will post the documentation in the MFX project tree on the website when it's done.
It's done! To whet your appetite for MFX, a draft of the MFX Operator's Guide is now available.
June 2022
May 2022
April 2022
Work has started on the design of a new SD card based expansion for the MTX, the Multi-Function eXpansion card, (MFX). If this exercise does lead to a new product, it is likely quite a few months away from being available, but we'll see . . . . In the meantime, please don't ask about availability and/or price - at this point, I really have no idea, but just wanted to give folks a little advance notification that there may be some good news on the horizon!
March 2022
Things have been pretty quiet here for a while - real life getting in the way again . . . however, some news . . .
Thanks to a generous donation from Paul Smith, I am now the proud owner of a NewWord ROM board and a HiSoft Pascal ROM board (V1.4) - thanks a lot Paul!
February 2022
January 2022
December 2021
November 2021
Due to popular demand (OK, Martin asked), I have made access to the pages on disassembling Memotech hardware more obvious and linked to them from the Repairs index page
Added some info to my MTX PSU page to document the internal fuse fitted to some MTX PSUs supplied to Europe. The presence of this fuse makes no sense to me - if you can explain it, please let me know.
October 2021
September 2021
Martin has provided a Bug fix for the CFX-II ROM
August 2021
July 2021
June 2021
Added another game disassembly from Martin - Goldmine
Bill Brendling has ported Z-Machine (an interpreter for Infocom text adventures) to the MTX. Bill's description of the process and links to download it are available here.
May 2021
April 2021
March 2021
February 2021
Another item for the collection! Jonas O'Brien in Norway recently advertised a Norbit Elektronikk Toolbox '85 on eBay but decided to donate it to me instead. The similar looking Toolbox '84 was advertised for use with MTX. The '85 has a slightly different lead and I/O sockets, but otherwise looks identical. Jonas also sent me an unmarked unit with the same lead and sockets as the '84 model for the MTX. Sadly, I don't have any documentation for it, but it's a great find!
Now that the much improved ReSource is available, I will make the original version of The Source available on request to anyone that can provide other Memotech documentation that is not already on the site - contact me if this applies to you.
January 2021
Expanding on Martin's original, Bill Brendling has contributed updates to ReSource
Another update to ReSource, this time by Martin, adding the details of his Diagnostic ROM board
Posted a review of the MTX500 from What Micro? of March 1984 (Courtesy of Rob Green)
See Earlier "News"
2012 2013 2014 2015 2016 2017 2018 2019 2020 2021 2022