| | | |
| --- | --- | --- |
| | The Memotech MTX Series | |
MEMOTECH DISK SYSTEMS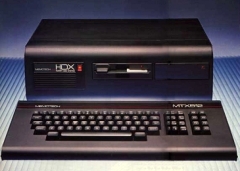 HDX Disc System
In addition to the FDX and SDX floppy disk drive options for the MTX, Memotech also announced a hard disk version of the FDX which could accommodate a small (10, 20 or 32 MB) hard disk installed in an FDX case alongside a single 1MB floppy disk.
According to the Phoenix Operator's Manual, the HDX used an 8MHz Z80H processor. I have never seen one of these, and given the expected price (the retail price was never announced), I would guess that very few, if any, were actually sold.
The image above shows how the HDX might have looked with a half-height hard disk adjacent to the floppy drive, it is almost certain that no actual pictures of HDX systems have survived.